Alexander Kearns' name should be seared into your memory.
On June 12, the parents of 20-year-old Kearns found a suicide note which read, "How was a 20-year-old with no income able to get assigned almost a million dollars' worth of leverage?"
It's a valid question. And the answer to it partially explains the "melt-up" in stock prices during the worst economic downturn since the Great Depression of the 1930s.
Here's what the investing app on Kearns' smartphone was telling him about his account when he decided to kill himself: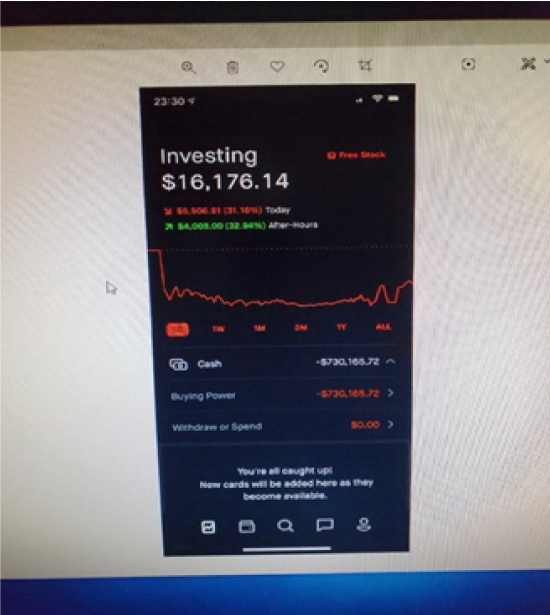 Like many other young people, Kearns began investing while socially isolated during the COVID-19 lockdowns. He downloaded a popular Millennial-focused mobile trading app called Robinhood. The app, intentionally designed to ape features of social media platforms and video games, also offers free trading and $10 of stock when you open an account. And if you get your friends to sign up, you get more free stock. After your first trade, confetti floods your screen.
Robinhood also makes it much easier than conventional brokers to trade options – a feature that may have been tragically misunderstood by Alexander Kearns. The app suggests to accountholders they should "level up with options trading"; a seductive but dangerous strategy. Most options traders lose money, yet trading volume in options is up nearly 50% from 2019, with the proportion sold to small traders like Kearns more than doubling.
Robinhood users tend to be young, with nearly one-third of visitors in the 25 to 34-year-old age range. Judging by Kearns' age, some are even younger. Three million people, half of them first-time traders, signed up for new accounts in the first quarter of 2020.
At the time of his death, Kearns appears to have been using an options spread strategy that he evidently believed had led to a huge loss. While his account snapshot showed a negative cash balance of $730,000, this was only a temporary figure that had yet to be updated with the outcome of the entire trade. Kearns actually had a $16,000 balance in his account.
Many neophyte traders regard options trading as much more exciting than merely buying and selling stocks. As one new options trader put it:
It's boring watching stocks, it's not exciting, they're not making these crazy prices. You don't get a rush throwing money at Berkshire Hathaway and waiting 15 years.
And as for investment strategy? There isn't any. Another young trader described his strategy for trading on Robinhood as investing in "whatever everyone's talking about."
But the trades are hardly-risk free. Shares of car rental giant Hertz is an example of how inexperienced Robinhooders and their kindred spirits can lose big. In May, Hertz declared bankruptcy. Its share price fell to $0.40 in the expectation that existing shareholders would likely be wiped out once the company was reorganized.
But the price of Hertz shares soared to $6.25 per share on June 7, in large part due to Robinhooders piling into the shares they believed to be merely undervalued, not worthless. Hertz even tried to issue as much as $500 million in additional stock to prop up its finances, although the corporation later withdrew the plan in response to a scolding by the Securities & Exchange Commission. Its share price promptly fell by more than 70%.
Robinhood is more a symptom of a diseased system rather than the cause of the affliction. We're all taught that the free market is the ultimate arbiter of value. But stocks no longer trade in a free market. If you're a large enough company or hedge fund, you can count on the Federal Reserve to have your back (and bail you out) if you make stupid decisions.
Thus, as it became clear that the stocks favored by Robinhooders actually were outperforming the overall market, hedge funds threw out their black boxes and started buying the same stocks. For this, we can thank the Fed and its easy money policies. The Fed is offering well-heeled investors and zombie companies what amounts to the world's simplest and most lucrative carry trade: borrow money at 0% and buy stocks.
One firm quick to take advantage of this strategy was Softbank, the Japanese conglomerate that operates a venture capital fund subsidiary, Vision Fund. According to the Financial Times, the Vision Fund "bought billions of dollars' worth of US equity derivatives in a move that stoked the fevered rally in big tech stocks." SoftBank "also made a splash in trading derivatives linked to some of those new investments, which has shocked market veterans." And it "spent roughly $4 billion buying call options tied to the underlying shares it bought, as well as on other names," according to The Wall Street Journal.
Another practice Fed policies have rekindled that goose up stock prices are share buybacks. This is a risky and once-illegal practice where companies use (generally) borrowed money to purchase their shares on the open market. This way, even perennially money-losing zombie companies can keep their share prices rising.
The CARES Act prohibits companies that borrowed money from Uncle Sam from buying back their shares for a year. But companies that didn't need the money can buy back shares to their heart's content. And they are. The Financial Times reports that the S&P 500 companies that have released second-quarter earnings reports have cut the number of publicly held shares by 0.3% from the previous quarter.
Whether the market is now controlled by bored Robinhooders socially isolating at home or by a Ponzi Scheme empowered by easy money from the Fed, or both, one thing is certain: stocks are trading at unprecedented premiums to historical valuations. And there will be a reckoning. When the bubble bursts, we could see another period that resembles late February and most of March, when the value of the S&P 500 fell by about one-third.
When that happens, the Fed will undoubtedly come to the rescue. It could add another trillion or two of distressed corporate debt onto its balance sheet. Or it could begin buying stocks directly, a practice the Japanese Central Bank has been engaged in for nearly two decades.
The real question is whether the millions of novice traders that are engaged in risky and highly leveraged trades to follow the market up will be able to hold on before the Fed intervenes. While they might not follow Alexander Kearns' example, they'll quickly discover that unlike a game, the losses they experience are real.