Practical Solutions to Preserve Your Wealth and Protect Your Freedom
For more than a quarter century, I've helped 9,000+ customers and clients find freedom, enjoy more privacy and protect their wealth. Here are the resources available to help you do the same.
---
Nestmann's Notes
Free Newsletter
Every week, you'll receive concise, to the point briefings on topics like:
How to make your assets bulletproof from a bankrupt government, sue-happy lawyers, thieves and criminals.
How to make yourself invisible to the crushing numbers of threats to Americans
How to protect your personal freedom in the USA
How to live free on your own terms exactly as you want... without anyone telling you what to do.
Consumer Alerts: Scams and frauds to watch out for in the offshore world.
Plus, subscribers receive extra special reports and insider information too sensitive to be posted online.
---
Offshore Freedom Blueprint

Step-By-Step Roadmap to Offshore Success
This 24-lesson course shows you how to use both domestic and international techniques to protect your nest egg from the threats of a post-9/11, post-FATCA world.
Specifically designed for those fairly new to the world of asset protection, it's the easiest way to get your "ducks all lined up" without having to hire a high-priced professional first.
Click here to learn more
---
Offshore Freedom Inner Circle


A complete offshore concierge and intelligence service
Built for those who are looking to "go global," this program offers a high level of ongoing access to some of the nation's top offshore experts for a fraction of the regular cost.
Click here to learn more
---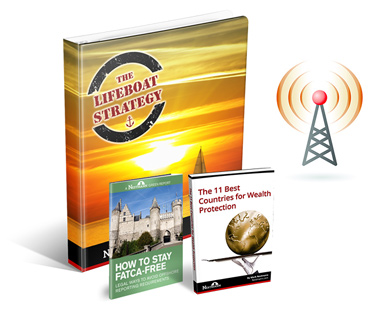 The Lifeboat Strategy
Fully updated and revised for the threats of 2014
Just updated, this newest edition is the single most comprehensive collection of every completely legal trick and strategy I'm using to help my clients go offshore.

It's the same book Ron Paul told his followers to read, saying it would be the...

"Single most effective step you can take to ensure your personal and financial privacy."

Except now it's expanded and updated with even more new and relevant how to information.
Click here to learn more
---
The Truth About Second Passports
Market Intelligence on the 6 Legal Second Passport Programs
I've helped hundreds of clients successfully get a second passport.
And I can tell you, there are a lot of things to watch out for if you plan to get one yourself. Bureaucratic headaches and delays, unscrupulous "Passport Pitchmen," and the potential to lose many thousands of dollars if not done right.
That's where the Truth About Second Passports comes in. It gives you the rundown on the only six formally-recognized-and-encoded-into-law programs around, including the best ones out there for American clients. Armed with this knowledge, you can feel confident, knowing you can make the best choice for what is a very serious decision.
Click here to learn more
---
Escape from America
The Complete Version
In late October 2012, I brought a group of highly qualified experts (and the prime minister of Dominica) together for a two-day intensive session all about international tax planning, second passports, and expatriation.
What made this seminar different than the ton of other offshore conferences is the caliber of resources who were there to share (not sell) their decades of experience – people who don't make their money on the speaker circuit but rather to the grindstone, in their businesses each and every day.
Click here to learn more