An Important Message for Current and Would-Be Wallet-Holders ...
The Biggest Mistakes and
Best Ways to Use
Bitcoin
A brand-new report on Bitcoin detailing the best ways to buy, spend and store it safely and securely. Written by a true insider of the "cryptocurrency" world.
Dear Reader,
It's no secret that Bitcoin is firmly in the mainstream. The single-unit price of this marvelous invention has had some wild swings in its short life. But over the past few years, Bitcoin has come into its own.
Here's a chart showing the value over last year:
In fact, the price of a Bitcoin exceeded that of an ounce of gold for the first time on March 2, 2017.
It's been a wild ride for sure – a speculator's dream.
But it's also something deeper than that. The success of Bitcoin marks the start of a something important for freedom seekers:
… The first worldwide currency that can be moved around the world in virtually total privacy in the blink of an eye…
… No inflation and central authority to manipulate supply...
… Totally based on the free market rather than the whims of a central bank...
Ultimately, it's a reliable way for people to safely and securely move value across borders…
At least if you know how to use it right.
And therein lies the problem.
The Majority of "Newbies" Use Bitcoin Wrong…
And End Up Losing for It.
Like most new things, there are both benefits to gain and risks to avoid.
Unfortunately, most of the people who signed on recently are not aware of the risks and are putting themselves in danger of:
Paying too much to buy
Losing access to their stash
Someone stealing it from them
Accidentally "de-anonymizing" their transactions.
Fortunately, using Bitcoin safely and securely is just a matter of knowing a few tricks – and avoiding a few mistakes, some that are obvious and some that are not.
Meet the Internet Insider…
Paul Rosenberg is an expert in the world of "computer currencies" like Bitcoin. The reason? He's a consummate internet insider. He literally wrote the book on the first standard for fiber optic cables that carry all the bits and bytes on which the World Wide Web is built.
This gives him an incredible amount of access to the people who build and design such things – the coders and hackers who understand this stuff better than we ever will (or want to).
He knows what makes this technology work and how to use it properly: as a way to conduct business with other people privately.
He's seen the mistakes many users make that expose their holdings to outright fraud and theft.
And he's bundled all of his knowledge about the practices to follow and the mistakes to avoid into an easy-to-understand report that. Even if you're completely new to the idea of Bitcoin, this report will start you off on the right foot. In fact, a privacy expert called it "the best explanation I've read of the Bitcoin phenomenon."
Heck, even if you're familiar with the basics, you're going to pick up a good tip or two.
I'll tell you how to get this report in a moment but first...
Isn't Bitcoin Dead?
You might have heard about Bitcoin exchanges being partially or totally shut down in the past. The mainstream media would have you believe this phenomenon is dead.
Believing Them Would Be a BIG Mistake.
Yes, it is true that the governments don't like competition. And a currency that allows anyone to escape from an immoral currency monopoly represents real competition to them.
But just because a few exchanges have gone away, doesn't mean the Bitcoin system will. It can't. It was designed to operate like gold or silver: once it's out there in day-to-day use, it's practically impossible to put it back into the bottle.
Yes, there have been growing pains over the years. There have been challenges – the same sorts of challenges that every breakthrough idea must go through on the way to full acceptance. And let's not forget that even the establishment has failures from time to time. The Bangladesh central bank lost $81 million last year through the supposed hyper-secure SWIFT wire transfer system, for example.
So Bitcoin will stick around. And, once you see what's going on behind the scenes like Paul can, you'll realize that the best is yet to come.

These are exciting times in the world of Bitcoin. And you're invited to join us. It all starts with learning how... Which brings us back to the report.
You'll Learn:
Why Bitcoin isn't truly anonymous unless you follow these simple steps
The four things you need to use Bitcoin (you already have three of them)
The 3 kinds of "wallets" and how to choose the right one
Our recommended wallets for your smartphone and desktop computer
How and where to get Bitcoin anonymously
How to spend Bitcoin anonymously
How to protect your stash from theft or loss
... And a whole lot more. All with a ton of screenshots that show you how to enjoy the benefits of this technology.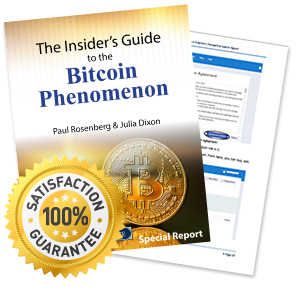 It's Fully Guaranteed Too.
As with virtually all of our products, if you aren't happy for any reason over the next 60 days just let us know and we'll give you a full refund.
An Introductory Price…
Normally, a digital report of this caliber would be priced at $80-$100. But because it's important as many people as possible learn how to use this revolutionary technology, you can get the whole digital package for just $49 as part of this introductory offer.
Grab Your Copy Today...
Simply click the Add to Cart button below.
Sincerely,
Mark Nestmann
Founder, The Nestmann Group
P.S. Whether you're brand new or a seasoned veteran, you're sure to pick up plenty of tips, tricks and techniques to use Bitcoin as a secure, private and ultra-convenient way to trade with people and other businesses all over the world.
P.P.S. Even if the mainstream media wants you to believe otherwise, Bitcoin is not dead. In fact, quite the opposite. It's becoming stronger and more stable day by day. And more exciting.
Share in this "economic freedom revolution" with us!